a.k.a. Wine Investigation for Novices & Oenophiles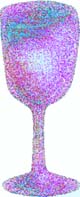 W.I.N.O. was founded in 1967 by Jerry and Linda Mead as a way for wine lovers of modest means to share the cost of tasting wines. For roughly the cost of a single bottle, a couple could taste as many as a dozen different bottles. From its very first event, W.I.N.O. included food as a part of its wine tasting format, something that was quite uncommon at the time.
Born at the same time was The W.I.N.O. Newsletter, the official newsletter of Wine Investigation for Novices and Oenophiles. It was The W.I.N.O. Newsletter which later gave birth to a second publication, The W.I.N.O. Trader, which eventually evolved into the publication you are now reading, The Wine Trader.
We now have a "tail wagging the dog" situation. The Wine Trader's circulation has grown to reach an estimated 75,000 readers every issue, while the newsletter has become a section within the magazine.
If the tastings and events reported on in this section sound like fun to you and you'd like more information, contact: W.I.N.O., P.O. Box 1598, Carson City, NV 89702 (800) 845-9463 or FAX (702) 884-2484.

Carson Valley W.I.N.O. Report:

Jekel Vineyards at Bricks in Reno by Jeannette Jenness Charming
Suave. Debonair. Articulate. And a damned good winemaker, too, is Rick Boyer of Jekel Vineyards. Carson Valley W.I.N.O.s experienced another wonderful dinner, this time at Bricks' Restaurant in Reno, accompanied by some outstanding wines from Jekel. We began with an aperitif glass of Jekel 1996 Johannisberg Riesling. When I was first told we would be having a Riesling, I wrinkled my nose in distaste, I dislike any sweet wine, but this was an exceptional Riesling with only 1.6% residual sugar that has me rethinking my opinion of Rieslings. It's a wine that will change with the flavors one pairs with it and would go well with Thai food or anything spicy or fruity.
While we started our first course, two really delicious Dungeness Crab Cakes, and sipped with them Jekel's 1995 Gravelstone Chardonnay,a wine that reflects Rick's preference for oak barrels that don't impart too much oak so that the oak doesn't mask the fruit flavor of the wine, Rick described his philosophy of winemaking. Jekel vineyards are organically grown as much as possible, using methods such as planting groundcover to enrich the soil and using nature's combination of good insects and earthworms to help develop healthy vines. Jekel is also a winery with a heart; they have dug trenches parallel to the vines so that the grape pickers can harvest them at a comfortable level without stooping. The workers stand in the trench in front of the vine and are then at direct arm's reach to the grapes! And what Rick strives to do with these grapes is to make a distinctive wine that "reflects the spot we grow on the earth." With so many wineries out there, a wine must be distinctive to get noticed, and Rick is certainly succeeding in his ambition.
Our second course was a hearty antipasto salad, baby mixed greens, shaved parmesan cheese, roasted bell peppers, in a Cabernet vinegarette. Since we thought the salad could stand up to a red wine, we paired it with Jekel's 1994 Merlot. It wasn't a match made in heaven, but it worked. Rick said he probably should have sent his Pinot Noir to go with the salad but he prefers the Merlot and so sent that instead. A man after my own heart.
The entree was a mouth-watering Steak Diane (two fillets each!) with a Cabernet mushroom demi-glace, served with garlic whipped potatoes and grilled red, yellow, and green bell peppers. With it we had Jekel's superb 1991 "Arroyo Seco" Meritage Red, a blend of the famous Bordeaux family of grapes, including Cabernet Sauvignon, Merlot, Cabernet Franc, Malbec and Petit Verdot.
And what did we have with the Belgium Chocolate Cake? A Jekel 1995 Cabernet Sauvignon, a really big wine that loved the cake as much as we did. As a final added treat, we sampled two of Rick's latest offspring: a 1994 Malbec and a 1994 Petit Verdot, both selling at $30.00/bottle and worth every penny.
If you're in the Reno area, do try to dine at Bricks'. They gave us a flawless evening, from the fantastic food to the exemplary wait staff. And buy up all the Jekel wine you can afford!

Carson Valley W.I.N.O. Report:

Goosecross and Pradel at Wally's Hot Springs by Jeannette Jenness
Seventy-five people attended Carson Valley W.I.N.O.s' barbecue supper at Wally's Hot Springs Resort in May. It wasn't gourmet, but it sure was yummy: Santa-Maria-style barbecue tri-tip, pork ribs, and chicken; salad, bread; and some truly unique poquitos beans. The Oak Pit's Joe Cirone did himself proud and went home one tired puppy: he started cooking at noon and finished up around 7 that evening.
Seventy-five people attended Carson Valley W.I.N.O.s' barbecue supper at Wally's Hot Springs Resort in May. It wasn't gourmet, but it sure was yummy: Santa-Maria-style barbecue tri-tip, pork ribs, and chicken; salad, bread; and some truly unique poquitos beans. The Oak Pit's Joe Cirone did himself proud and went home one tired puppy: he started cooking at noon and finished up around 7 that evening.
And even though the food wasn't gourmet, the wines certainly were. We began with Mumm Napa Brut Prestige, a hugely popular, award winning champagne with touches of vanilla and melon, firm acid and crisp structure. Our evening centered around Goosecross Cellars, a micro-winery in Napa. The founding Gorsuch family, using an Old English derivation of their family name, called their winery "Goosecross," as they set out to make a singular Napa Valley Chardonnay. Geoff Gorsuch, winemaker, graced us with his presence, and not only described his wines, but helped us pour as we ran short of servers. His energy and enthusiasm were infectious and helped us all enjoy the evening even more.
Goosecross believes in the concept of "terroir," which means far more than "earth" or "soil" or even "vineyard site." It refers to all of the elements that go into making superior wine: soil, subsoil, microclimate, precipitation, drainage of both air and water, temperature, elevation of the land, tilt of the land toward the sun, and prevailing winds. The wine becomes greater than the sum of its parts when all of these elements combine in just the right way. Goosecross Cellars superior, hand-crafted wines are testimonial to this belief.
We compared Goosecross Napa Valley Chardonnay 1994 and 1995, and most of the folks around me preferred the '95 (that's good; the '94 is all sold out anyway!). Winemaker Geoff believes that vintage 1995 will prove to be one of the best Goosecross Estate Vintages of the 1990's due, in part, to a long, cool growing season and extended "hang time" of the grape clusters. With the luck of early bud break and late harvest, the grapes exhibited intense and complex characteristics that nature can only provide on rare occasion. To utilize the best balance of sugar and pH at the Estate, the fruit was picked at a slightly higher sugar level, similar to vintages 1992 and 1993, in order to maintain consistency between vintage years.
The ripe peach and grapefruit flavors of the estate were complemented with Chardonnay from Carneros and St. Helena. The Carneros fruit bore green apple characteristics, excellent structure and good acidity; the Stags Leap appellation fruit offered flavors of peach, pear, pineapple and banana, lending tremendous depth and richness. Goosecross Cellars has also recently acquired Bernard Pradel Cellars and the entire Pradel inventory of Cabernet Sauvignon vintage wines. We tasted the Yountville Ranch 1993 Cabernet Sauvignon and the 1993 Howell Mountain Cabernet Sauvignon. The Howell Mountain is a full-bodied, rich Cab; the Yountville '93 was also excellent with characteristics of raspberry and chocolate. Utilizing the Howell Mountain vineyard, Goosecross will now take winemaking responsibility for the 1995 and 1996 vintages and bottle them under the Goosecross label. The first Goosecross Cabernet is anticipated to be released in the summer of '98 provided, of course, that "the wine is aged to perfection by that time," says Geoff.
For information about Goosecross wines, call 1-800-276-9210.
For information about the Carson Valley W.I.N.O. chapter, contact Regional Directors Wendell and Jeanette Jenness at (702) 265-1506.
The Wine Curmudgeon
The Master Sommelier | Health & Social Issues | Online Report
Lodgings Report | Cookbook Corner | Travel Trader | The Book Report
Cooking From the Heart | W.I.N.O. News | Letters to the Editor
Free Wine & Food Publications
---

© Copyright 1997 Jerry D, Mead, JDM Enterprises and Wine Investigation for Novices and Oenophiles; all rights reserved.

WineTrader Web Pages are designed, hosted and maintained by Wines on the Internet. This material may not be duplicated by electronic or other means without prior written permission of the publisher.
Latest Update: October 31, 1997