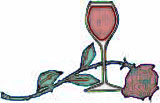 From Chronicle Books a new edition of Diane Rossen Worthington's 1983 classic cookbook, THE CUISINE OF CALIFORNIA ($14.95) has just been released. If you missed it the first time around, be sure not to miss it this time. I've spent most of the last two hours just reading and re-reading this cookbook. My only complaint is the color ink (pale green) chosen to sub-title the different steps. At first glance through the book, I did not see them at all, and my office is flooded with sunlight in the afternoon.


Worthington says of her book, "Over a decade later the recipes in this book have stood up to the test of time...these recipes [are] still as fresh as the day I wrote them." Diane Worthington's way of presenting these recipes makes the preparing, cooking and serving of them very easy for the novice as well as the experienced cook.
The steps in preparing are actually marked (1), (2), (3), etc. and tell you exactly what to do in each step. If something can be prepared in advance, this information is provided. Some steps can be done days ahead while others are only hours. As any one who has tried to prepare meals for guests and keep them entertained at the same time knows, any information on preparing ahead is very helpful. Recipes are arranged by course in the order in which they are usually served. Wine recommendations, though vague and not much help to the novice wine consumer, are provided. Additional serving suggestions are provided along with substitutions when necessary for many of the dishes. Paperback.
(The Cuisine of California is available from Wine Trader Book Services for $17.45...shipping included...to: California Cuisine, Box 1598, Carson City, NV 89702.)

From Ten Speed Press is THE VILLAGE BAKER Classic Regional Breads from Europe and America ($19.95). I really like this book. It is fun to peruse. There are color photographs, black and white photographs, sepia prints, hand drawn illustrations and easy to read print. Again, a cookbook with very basic instructions along with recommended equipment for the home baker.
This book explains the five basic methods of bread making yeast, sponge, old dough, porridge and sourdough to create breads that are distinct in appearance, flavors and texture. Chapter 3 is devoted entirely to bread making techniques.
There are nearly 100 recipes in all. Included are recipes for Foccacia, Brioche, Raisin Pumpernickel, Berkeley Sourdough, Francese, Italian Prosciutto Bread and Pumpkin Seed Bread. The final chapter contains the professional recipes from which each home baker recipe is derived. Paperback.

The Village Baker's Wife ($24.95) by Gayle and Joe Ortiz should be on your shelf alongside The Village Baker. In Capitola about 90 miles south of San Francisco is Gayle's Bakery and Rosticceria. About 1,500 customers a day line up to partake of the European-style bakery's legendary croissants, breads and baked goods. Started by Gayle and Joe Ortiz as a humble 800 square foot bakery, it is now a 10,000 square foot food emporium serving customers from as far away as New York.
The Village Baker's Wife contains more than 150 recipes from Gayle Ortiz: classic croissants and puff pastry to beautiful cakes, cookies, pies and tarts. Many of her recipes were coaxed and charmed out of bakers from France, Italy and around the United States. It is arranged in three parts: Before You Start Baking gives descriptions of the right ingredients and equipment and tips for producing fail-proof baked goods. Part Two, The Recipes, is divided into chapters: Croissant, Danish, Pastry, Puff Pastry, Pies and Tarts, Cookies, Cakes, Holiday and Other Festive Desserts, Muffins, Cream Puffs and Other Goodies. Part Three, Resources for Bakers, is a list of sources, recommended reading and indexes. Hardcover.

Dining With a Minor in Europe

I'm just back from three weeks traveling throughout Europe (9 countries) with my 16 year old granddaughter. It was her "Sweet 16" birthday present and my answer to the need for someone to help carry the bags.
She was served wine and beer with meals everywhere we went, without question, something that would be quite impossible in our paranoid, "alcohol is a drug" society. I hasten to add that she never became intoxicated, but was able to enjoy the full pleasures of the table in a grown-up, serious atmosphere of family-supervised moderation.
I have been traveling in Europe quite extensively for a quarter of a century and cannot recall a single occasion where I observed drunken teenagers misbehaving in public.I have seen many of them enjoying adult beverages in the company of their families in restaurants grand and ordinary (just as my granddaughter did).
The difference is that Europe treats wine and all beverages containing alcohol as they were intended, as parts or extensions of the meal. Children are taught proper drinking etiquette in the home and that overindulgence is something shameful.
Too bad we can't educate our children in such a manner...but of course it would not only be illegal, it would probably get us locked up and/or sued for child abuse. Not surprisingly, our Puritan ways will guarantee us at least one more generation of drink-to-get-drunk alcohol abusers.

AA Business Class

One can complain all they want about airline food, but "old lucked out and got upgraded to Business Class" sure can't complain about the vittles on a recent American Airlines trans-Atlantic jaunt. How does Tenderloin of Beef in Caraway Sauce sound?, with smoked salmon on a bed of arugula and romaine and red leaf lettuce salad for starters.
Of course one had to choke it down with a choice of Champagne Pommery Cuvee Louise 1987, Silverado 1992 "Napa" Chardonnay, Berncasteler Doctor Riesling Kabinett by Rudolf Muller, Acacia 1994 "Napa Carneros" Pinot Noir or Chateau Langoa Barton 1992. Choose?! Hell, some of us had some of them all before it was over.

Reno Spread

It's a known fact that Nevada Casino Hotels give you a big bang for your buck in lots of ways, to get you there, with the idea that you'll spend all that green in some other ways with which we're all familiar.
There's no better example of that than the amazing Sunday Champagne Brunch at Sterling Restaurant at Reno's Silver Legacy. At $14.95 ($7.95 for kids) it's a flat out giveaway. When the staff stopped by our table to ask our opinion, or first response was "underpriced."
A seafood lover could get more than $15 in value in oysters on the half shell, boiled shrimp and Dungeness Crab. Then there's the made-to-order omelet/breakfast buffet, the salad station, the cheese board, the bread board, the charcuiterie station and what I call "The Gourmet Spread" with a changing (from week to week) array of the likes of little loin lamb chops, whole roasted garlic, the best Prime Rib we've had west of Kansas and on and on. Even the bubbly is the more than palatable Domaine Ste. Michelle rather than the usual bulk process stuff.

Dan Berger's Meatloaf

The Wine Trader has printed some pretty fancy recipes over the years, many of which appeared in Charles Saunders' Cooking From The Heart column, others courtesy of some exceptional restaurant or other. This is our first ever Meatloaf recipe.
How we came to have Berger's Meatloaf recipe is a bit of a story. You see, our weekly newsletter/syndicated column, called Mead On Wine, is delivered several ways, by the Postal Service, by fax, and by E-mail. Berger, who writes his own column and newsletter by the by, happens to receive ours via E-mail.
Because of the ease of communicating electronically, occasionally there will be a little additional comment made by myself or one of the subscribers. It seems this one week I made a comment in reviewing some elegant red or other that the "wine certainly wouldn't be consumed with Tuesday night meatloaf."
Berger fired off a note demanding an apology re my disparaging words regarding meatloaf and declaring his recipe worthy of any red wine, blah, blah. One of the other subscribers wanted to know why, if the meatloaf was so good, he didn't share it with them. It took him a week or two to get around to it, but he finally came through.
Because it was only seen by a relatively small group who subscribe to the newsletter by E-mail, we decided to share with you all. If you don't like it, don't tell me, tell Berger. You can reach him at: rlls92a@prodigy.com.

Meat Loaf

3/4 cup minced onion
3/4 cup minced green onion
1/2 cup minced celery
1/2 cup minced carrot
1/4 cup minced green pepper
1/4 cup minced sweet red pepper
2 tsp. minced garlic
3 tbsp. butter or olive oil
1 tsp. salt
1/4 teaspoon cayenne pepper
1 tsp. black pepper
1/2 tsp. white pepper
1/2 tsp. ground cumin
1/2 tsp. ground nutmeg
1/2 cup half and half
1/2 cup catsup
1 1/2 pounds lean ground beef
1/2 pound lean ground turkey sausage
3 eggs, beaten
3/4 cup dry bread crumbs
Saute onion, green onion, celery, carrot, green pepper, red pepper and garlic in butter until vegetables are soft and liquid is absorbed. Cool and reserve. Combine salt, cayenne, black pepper, white pepper, cumin and nutmeg and add to vegetable mixture. Stir in half and half, catsup, beef, sausage, eggs and bread crumbs. Mix well. Form into loaf and place on greased baking sheet or 9x5-inch loaf pan. Bake at 350 degrees 45 to 50 minutes. Let stand 10 minutes before slicing. Pour off excess fat. Slice and serve with Gravy. Makes 6 to 8 servings.

Sauce

4 shallots, minced
2 tbsp. butter
1 sprig thyme
1 bay leaf
Dash crushed black pepper
1 cup dry white wine
2 cups chicken stock
Salt, pepper
Saute shallots in 1 tablespoon butter with thyme, bay leaf and black pepper. Add white wine and simmer over high heat until reduced to glaze. Add stock; simmer over high heat until reduced by 1/2. Stir in remaining 1 tablespoon butter and season to taste with salt and pepper. Stir until butter melts and sauce blends in. Discard bay leaf. Serve with meat loaf. Makes 1 cup.
It's pretty spicy. Try it with light, slightly chilled Zinfandel or Cru Beaujolais.
The Wine Curmudgeon
The Master Sommelier | Health & Social Issues | Online Report
Lodgings Report | Cookbook Corner | Travel Trader | The Book Report
Cooking From the Heart | W.I.N.O. News | Letters to the Editor
Free Wine & Food Publications
---

© Copyright 1997 Jerry D, Mead, JDM Enterprises and Wine Investigation for Novices and Oenophiles; all rights reserved.

WineTrader Web Pages are designed, hosted and maintained by Wines on the Internet. This material may not be duplicated by electronic or other means without prior written permission of the publisher.
Latest Update: October 31, 1997